The Promenade of Pain
Posted on October 8, 2020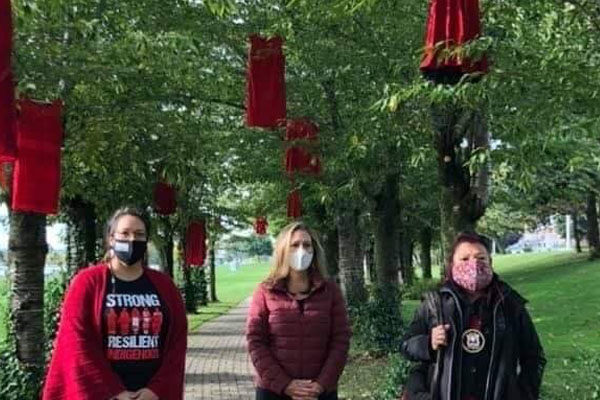 Burlington, Ont. — Oct. 1, 2020 — The City of Burlington is pleased to support the installation of a temporary public art installation called The Promenade of Pain in Spencer Smith Park. The goal of the artwork is reconciliation and remembering; to commemorate Missing and Murdered Indigenous Women and Girls and 2 – Spirit People (MMWIG2S) Awareness Day on Sunday, Oct. 4.
The artwork will be installed Saturday (Oct. 3) and will remain along the walkway beside the Waterfront Hotel and around the gazebo for one week until Oct. 10.
MCFN Elder EdebwedOgichidaa-Val King opened the ceremony with an honour song in recognition of the many murdered and missing Indigenous women and girls.   Elder King has, for many years brought awareness to the atrocities that have befallen Indigenous women and girls.  In seeking justice for Missing and murdered Aboriginal girls and women, Elder King created a Facebook group "Never to be Forgotten Memorials: Aboriginal Missing and Murdered Women", where she keeps it up to date with injustices still happening and active today.  https://www.facebook.com/groups/157000667822247
Chi-Miigwech Elder King for all you do for your Nation and for your continued support and advocacy for the many murdered and missing Indigenous women and girls.
*Please see below a media release issued by the City of Burlington.
Community Initiated Public Art
This mural was initiated by a group of residents in partnership with the City of Burlington's Community Initiated Public Art Policy. The City of Burlington Public Art Program is committed to supporting community-led projects through public art resources and, where applicable, access to City-owned parks and facilities
Artist's Statement
The REDress Project was created by multidisciplinary artist Jaime Black and has been installed in public spaces throughout Canada and the United States. This project focuses around the issue of missing or murdered Aboriginal women across Canada. The dresses resemble red specters, floating from hangers in tree branches.  Whether they flutter in the wind or drape eerily still, the dresses are not what haunts you but rather the absence of those who wore them. The dresses represent the hundreds – perhaps thousands – of North American Indigenous women and girls who have been murdered or disappeared during the past four decades
MAYOR MEED WARD'S TAKE:
I'm pleased Burlington is hosting the REDress Project in Spencer Smith Park to show our commitment to truth and reconciliation, and as a way to remember the death of hundreds – and potentially even thousands – of North American Indigenous women and girls who have been murdered or disappeared during the past four decades. Thank you to the Burlington artist for their "Promenade of Pain" art installation based on the REDdress movement by founder/creator Jaime Black. This truly powerful piece of art not only increases awareness of this devastating loss, but serves as a way to honour Indigenous women and peoples, particularly on Oct. 4 — Missing and Murdered Indigenous Women and Girls and 2 – Spirit People (MMWIG2S) Awareness Day."