Pillar 5 Update: Cultural Awareness, Communication and Outreach
Posted on October 20, 2020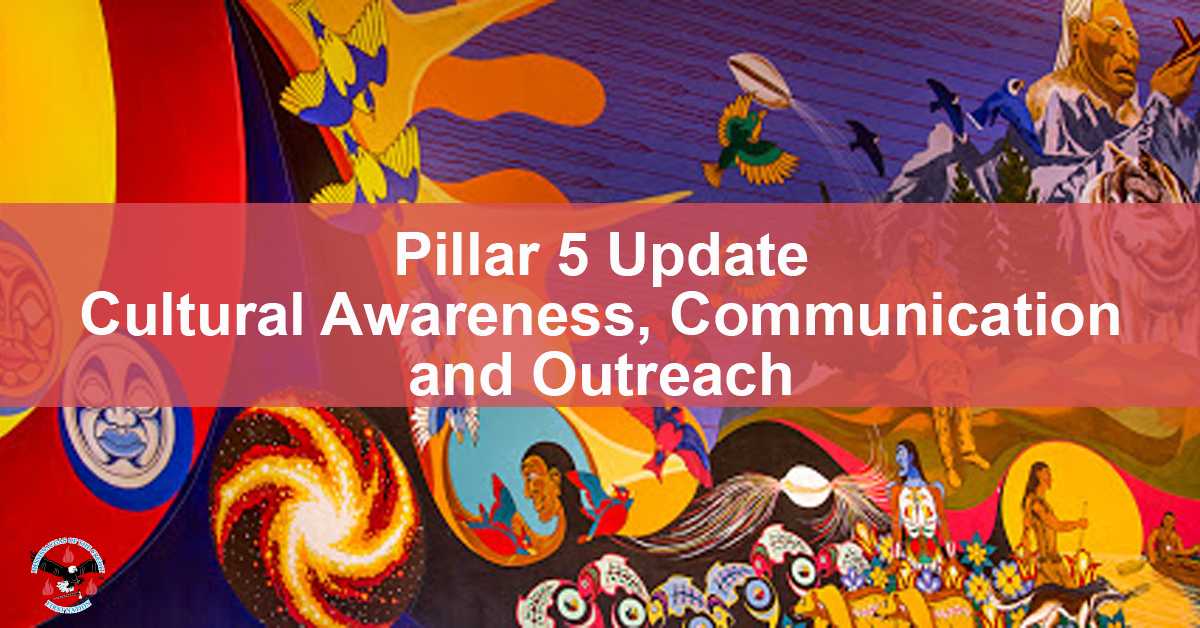 October 2020 – Monthly Report
Councillor, Erma Ferrell
MEETINGS ATTENDED
Council meetings attended:
Aug. 25 Education and Wellness,
Sept. 8 Financial Planning & Fiscal Oversight,
Sept. 15 Governance Internal & Intergovernmental ,
Sept. 22 Land, Water & Sustainable Prosperity and,
Aug. 27 and 28 Special Council meetings attended.
Mississaugas of the Credit Business Corporation
Sept. 9 Special shareholders meeting
Committee Meetings
Aug. 21 Mississauga Museum – Elizabeth Underhill (conference call)
Sept. 2 Indigenous Advisory Committee (conference call)
Sept. 4 George Street, Toronto Revitalization Project (call)
Sept. 10 Pillar #5 committee meeting
Aug. 27 and 28, 2020 Special Council Meetings
Chief and Council met on the 27 and 28 of August to review and revise the Mississaugas of the Credit Strategic Plan. The discussions included members of Council reviewing their current and future plans for each of their Pillar committees.   All Councillors are to provide a work plan and budget requests for their respective Pillars, they are due on Sept. 22 for final review and approval on Sept. 25.
Aug. 21, 2020 Mississauga Museum Video
A conference call took place with Elizabeth Underhill from the Mississauga Museum regarding what video's we can provide to her to upload on the Mississauga Museum website. Pillar #5 committee member Darin Wybenga provided input on the conference call on their current video on our First Nation and on how they have presented the Dish With One Spoon Wampum Belt. (this was a direction of council)
Sept. 2 George Street Revitalization Project
Currently in Toronto, there is a revitalization project on George Street. I was contacted to ask if Pillar #5 committee members can provide any history of the Mississaugas of the Credit in regard to George Street. This is an ongoing project for now.
Sept. 10 Pillar #5 Committee meeting
The members of Pillar #5 committee met on Sept. 10 to review their projects completed, the projects on hold, and future projects. The committee was provided a brief update on finances and the plan we must have in place to present to Chief & Council on Sept. 24 and 25 for approval and new budget discussions.  Over the past two years the Federal Government has provided funding for governance issues. A majority of the work being completed and planned by the Pillars meet the criteria of this funding.
Special Finance Sub-Committee
A sub-committee of the of the Financial Planning and Fiscal Oversight Council has appointed Councillor Veronica King-Jamieson, Councillor Bill Laforme, Chief Operating Officer Kailey Thompson, Finance Manager Lilia Moos and Councillor Erma Ferrell. The sub-committee is to meet once a month a review budgets and spending and bring any issues to the attention of Council.