Augustus Jones' Documentation of River and Creek Names, 1796
Posted on November 29, 2017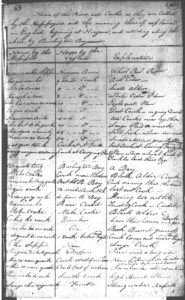 Augustus Jones (c. 1757-1836) was an American born surveyor who rose to prominence as the Deputy Surveyor General of Upper Canada. As a Crown surveyor in the early days of Upper Canada, Jones mapped an immense expanse of land that included much of the treaty lands and territory of the Mississaugas of the Credit. The lands surveyed included most of the townships from Lake Erie to the Head of Lake Ontario; the lands along the Grand River; the north shore of Lake Ontario between Toronto and the Trent River, and the town plots of Niagara and York. He also completed the survey of Yonge Street that connected Lake Ontario with Lake Simcoe, and also the survey of Dundas Street that connected Lake Ontario with the Detroit area.
Jones in his work employed First Nations people in his survey crews and was well-liked and respected amongst them. He married Sarah Tekarihogen, a Mohawk, and went on to father eight children with her. He also maintained a relationship with Tuhbenahneequay (Sarah Henry) , a Credit River Mississauga, with whom he fathered two boys – John Jones (b. 1798) and Peter Jones (b.1802). The two boys lived with their mother's people until 1816 when they went to live with Augustus at Stoney Creek. Both boys went on to become chiefs of the Credit River Mississaugas with Peter becoming a Methodist Missionary, the founder of the Credit River Mission Village, and a tireless advocate of his people.
Augustus Jones, surveyor as he was, made careful note of many of the geographical features he dealt with in his occupation. In 1796, one of the documents he wrote listed the Mississauga names, as well as their English meanings, of over thirty rivers and creeks flowing in the lands of the Mississaugas of the Credit.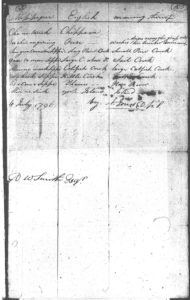 Jones, for reasons unknown, left his position as Crown surveyor in 1802. He went on to farm and later held respected positions as a militia captain and a magistrate. He died at his farm near Paris, Ontario, in 1836.
Thanks to Donald B. Smith for his copy of the document written by Augustus Jones detailing the Mississauga place names.
Darin P. Wybenga,
New Credit Public Library