MCFN Employment and Training provides various programs, made possible through the Aboriginal Labour Force Development Circle (ALFDC) and Aboriginal Skills and Employment Training Strategy (ASETS).
You could win $500 just for taking the Employment and Training survey, please click on the image to start the survey!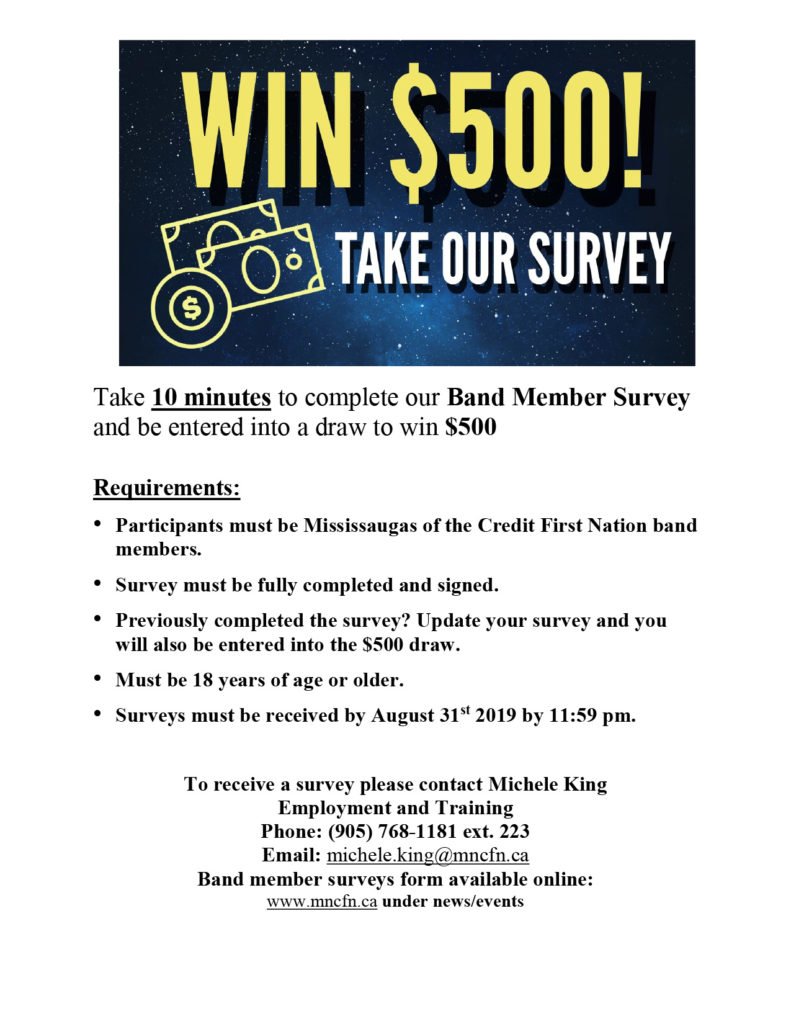 We provide employment and training support services that will meet the needs of our community and individuals – physically, mentally, emotionally, and spiritually.
By providing employment and training services, we will contribute to a healthier lifestyle and having pride in one's self and community.
Programs
Target Wage Subsidy
To encourage employers to hire employees and to provide on the job, as well as off the job, training that will lead to sustainable employment.
Job Creation Partnership
To provide opportunities for unemployed workers to maintain and develop skills in order to re-enter the labour market.
Direct Course Purchase
To assist clients who require assistance overcoming existing or anticipated labour market barriers by arranging a variety of training courses with qualified trainers.
Employment Assistance Support
To help local community organizations provide employment services to unemployed persons or to provide employment supports to individuals.
Self Employment Assistance
To assist unemployed persons to become self-employed by starting a viable business.
Small Business Support Program
To assist entrepreneurs or potential entrepreneurs, who require assistance in developing their business skills, to attend relevant workshops, conferences or seminars.
Local Labour Market Partnerships
To encourage communities to take responsibility for their own employment and training-related needs by building on the capabilities and strengths of organizations and relationships that already exist in the community.
Mobility Assistance
To provide some assistance to individuals with a job offer, located away from current residence.
Alter-Abled Initiative
To reduce reliance on income support programs, promote access of the alter-abled to Employment and Training programs. To increase availability of work-related supports, to encourage employers to make appropriate jobs in workplace accommodations, to promote employment and self-employment opportunities for alter-abled Indigenous peoples.
Summer Career Placement
To encourage employers to create career-related summer jobs for students aged 15 to 30.
Summer Student 2019 Information Package
Youth Work Experience
This employment and training measure is designed to benefit aboriginal youth (18 to 30 years old) by providing high-quality work experiences.
Stay in School Initiative
To assist students at the elementary and secondary levels who are at risk of dropping out before completing high school by allowing community stakeholders to develop innovative and effective programs and services.
Address: 659 New Credit Road, Unit 2, Hagersville, ON, N0A 1H0
The latest posts from MCFN
jmartin
Community Engagement and Indigenous Relations Coordinator Teach For Canada is looking for a hard-working change-maker to join our  their Community Engagement and Indigenous Relations team. In summary: Position: Community Engagement & Indigenous Relations Coordinator Organization: [...]
jmartin
All programming is CANCELLED (March Break Camp Registration). Ontario Works cheques can be picked up at the MCFN Community Centre until 4:30 p.m.
jmartin
CLAIM FORM CLICK HERE As per the Order rendered by the Federal Court on January 7, 2020, the Claims Form was approved and Implementation Date was set for January 13, 2010 (today). The claims [...]