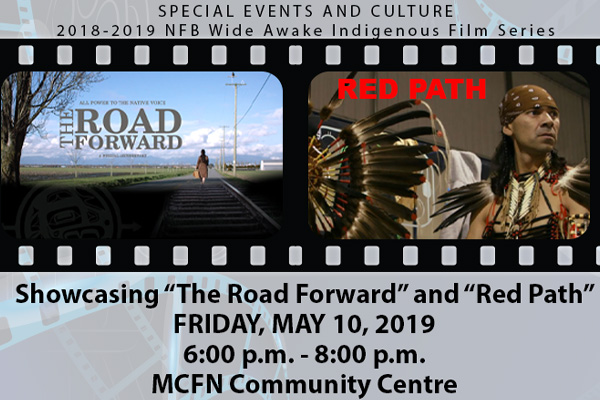 The Road Forward and Red Path
05/10/2019 @ 6:00 pm

-

8:00 pm
Special Events and Culture presents
2018-2019 National Film Board Wide Awake Indigenous Series
Showcasing "The Road Forward" and "Red Path"
FRIDAY, MAY 10, 2019
6:00 p.m. – 8:00 p.m.
MCFN Community Centre
EVERYONE IS WELCOME TO ATTEND
Dinner is provided.
Registration is required for catering purposes.
To register, please contact Caitlin Laforme at 905-768-1133, ext. 248 by Friday, May 3, 2019.
Donations to the Hagersville Food Bank will be greatly appreciated!
THE ROAD FORWARD
The Road Forward, a musical documentary by Marie Clements, connects a pivotal moment in Canada's civil rights history—thebeginnings of Indian Nationalism in the 1930s—with the powerful momentum of First Nations activism today. Clements paints an electrifying picture of how a tiny movement, the Native Brotherhood and Native Sisterhood, became a powerful voice for social, political and legal advocacy, eventually effecting profound change at the national level. The Road Forward's stunningly shot musical sequences, performed by an ensemble of some of Canada's finest vocalists and musicians, seamlessly connect past and present with soaring vocals, blues, rock, and traditional beats. The Road Forward is a rousing tribute to the fighters for First Nations rights, a soul-resounding historical experience, and a visceral call to action.
To view The Road Forward trailer, click here:  The Road Forward trailer.
RED PATH
This short documentary tells the story of Tony Chachai, a young Indigenous man in search of his identity. Moved by the desire to reconnect with his Atikamekw roots, he delivers a touching testimony on the journey that brought him closer to his family and community. On the verge of becoming a father himself, he becomes increasingly aware of the richness of his heritage and celebrates it by dancing in a powwow.
This film was produced as part of Tremplin NIKANIK, a competition for francophone First Nations filmmakers in Quebec.