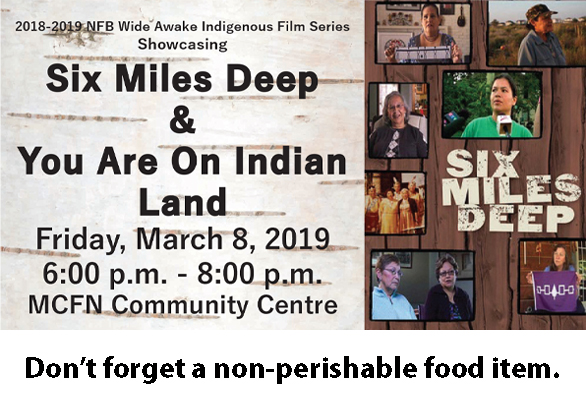 Six Miles Deep & You Are On Indian Land
03/08/2019 @ 6:00 pm

-

8:00 pm
Six Miles Deep
This short documentary offers a portrait of a group of women who led their community, the largest reserve in Canada, Six Nations of the Grand River Reserve, in an historic blockade to protect their land.
On February 28, 2006, members of the Iroquois Confederacy blockaded a highway near Caledonia, Ontario to prevent a housing development on land that falls within their traditional territories.  The ensuing confrontation made national headlines for months.  Less well-known is the crucial role of the clan mothers of the community who set the rules for conduct.  When the community's chiefs ask people to abandon the barricades, it is the clan mothers who overrule them, leading a cultural reawakening in their traditionally matriarchal community.
You Are On Indian Land
Released in 1969, this short documentary was one of the most influential and widely distributed productions made by the Indian Film Crew (IFC), the first all-Indigenous unit at the NFB.  It documents a 1969 protest by the Kanien'kehaka (Mohawk) of Akwesasne, a territory that straddles the Canada-U.S. border.  When Canadian authorities prohibited the duty-free cross-border passage of personal purchases–a right established by the Jay Treaty of 1794–Kanien'kehaka protesters blocked the international bridge between Ontario and New York State.  Director Michael Kanentakeron Mitchell later became Grand Chief of Akwesasne.  The film was formally credited to him in 2017.  You Are on Indian Land screened extensively across the continent, helping to mobilize a new wave of Indigenous activism.  It notably was shown at the 1970 occupation of Alcatraz.
Everyone is welcome!
Donations to the Hagersville Food Bank will be greatly appreciated.
Light refreshments and potluck welcome.
If you require further information, please contact Caitlin LaForme at 905-768-1133, ext 248 or by email caitlin.laforme@mncfn.ca