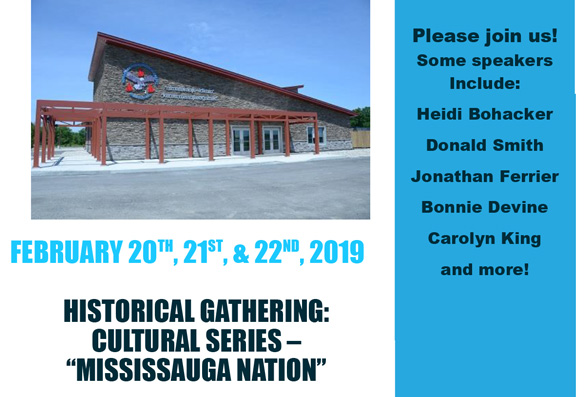 Historical Gathering
02/20/2019 @ 8:00 am

-

3:30 pm
A Historical Gathering and Cultural Series, showcasing the Mississaugas of the Credit First Nation – their lands, water and people.  This is a free 3 -day event covering topics from culture, language, history, archeology and much more.
Please join us!  Some speakers include:
Heidi Bohacker
Donald Smith
Jonathan Ferrier
Bonnie Devine
Carolyn King
and more!
You must fill out a registration form prior to the Historical Gathering.  Please return completed form(s) by email:  HistoricalGathering@mncfn.ca, or by fax 905-768-7311.  You may also register by calling 905-768-0100, or mail completed forms to Historical Gathering 2789 Mississauga Rd, Hagersville, ON  N0A 1H0  by February 1.