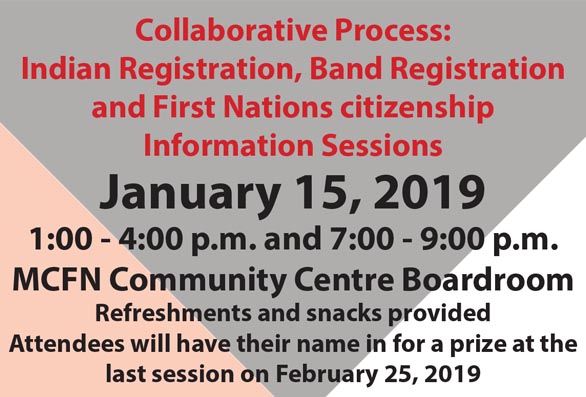 Collaborative Process
01/15/2019 @ 1:00 pm

-

4:00 pm
Indian Registration, Band Registration and First Nations citizenship Information Sessions

Refreshments and snacks provided
Attendees will have their name if for a prize at the last session on February 25, 2019
Does your child/grandchild qualify for a status card?
Do you want your opinion heard regarding entitlement changes with New Credit band membership?
What is this meeting about?
Recent changes to the Indian Act that will affect entitlement to registration.

Come out to voice your opinion regarding the new entitlement rules.
 The areas for discussion will be the removal of the 1951 cut-off from the Indian Act
Remaining inequities related to registration and membership under the Indian Act
Devolution of the responsibility for determining membership/citizenship to First Nations
Issues addressed:
Cousins
Sibling
Omitted Minor
Others

This information session is open to all Mississaugas of the Credit First Nation band members.  If you would like further information, please contact Margaret Sault, Lands, Membership and Research at 905-768-0100
Both sessions will be live streamed to the MCFN membership group on Facebook for those who are unable to attend.