World Suicide Prevention Day is Sept. 10, 2020 and the Suicide Prevention Committee of Brant has organized various events for all ages. Please see  below for ways to be involved ! To receive the World Suicide Prevention Tool Kit 2020, please contact Rebecca Brown at 905-975-1189 via text/phone or whatsapp.
Regional Calendar of Events
BRANTFORD/BRANT COUNTY/SIX NATIONS
Suicide Prevention Brant will be hosting a number events the week of September 7th 2020, all details will be available on our social media pages.
Sept. 8, 2020
Messages of Hope rock painting day, paint and hide a rock with a message of hope in Brantford/Brant.
Sept. 9, 2020
Messages of Hope chalking day, we invite everyone to write messages of hope with chalk on sidewalks throughout Brantford/Brant.
Sept 10, 2020 WORLD SUICIDE PREVENTION DAY
Meet Me at the Pole *virtual* flag raising events to be livestreamed on social media.
11:00am the County of Brant's virtual flag raising Meet Me at the Pole event
1:30pm the City of Brantford's virtual flag raising Meet Me at the Pole event
Move in Yellow Event – We are inviting everyone to walk, role, or ride for World Suicide Prevention Day and share with us how many "steps" you took to support suicide prevention and spread hope across our communities. This event will be done independently to support safety and social distancing!
Wear Yellow Day! Yellow is the colour for Suicide Prevention, join us in wearing yellow and promoting awareness about this day.
New Social Media Launch! You can now find us on social media under a new name, visit Suicide Prevention Brant on Facebook and Instagram today!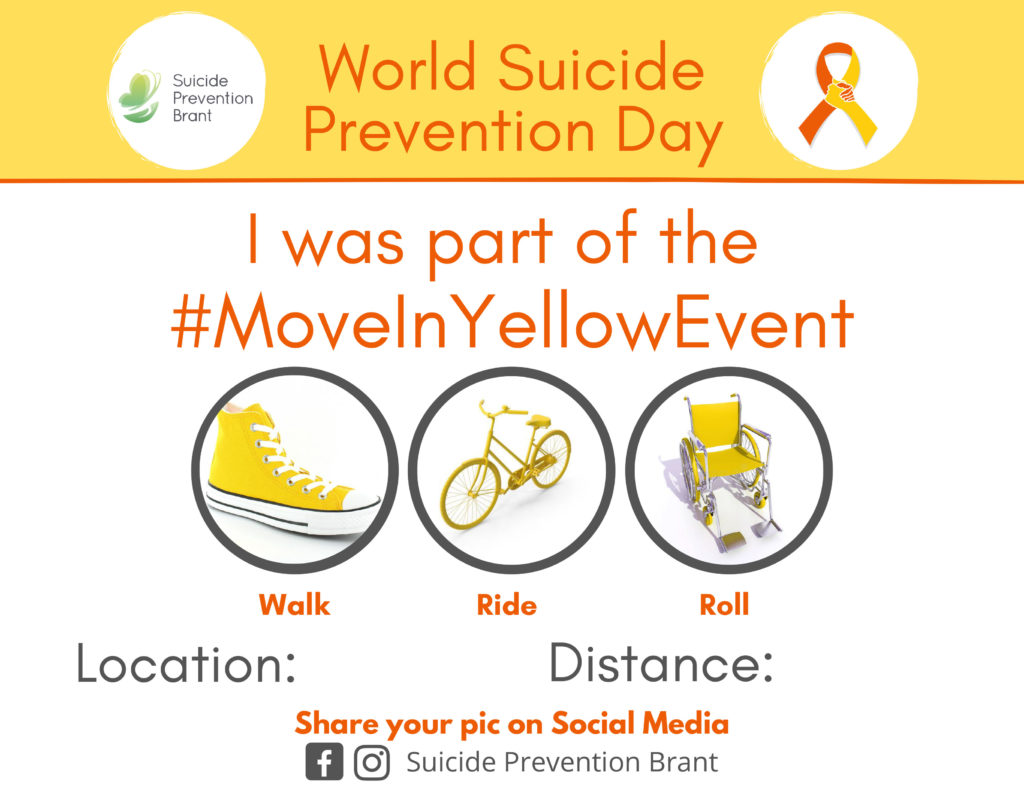 HALTON
September 10, 2020
The Halton Suicide Prevention Coalition is launching their new webcast CONNECT With HSPC on www.haltonspc.ca. This webcast will bring different perspectives to the topic of suicide prevention and how we can work together to create a suicide-safer community.
NIAGARA
September 10, 2020
Walk with Distress Centre – Distress Centre Niagara is hosting the 15th Annual Suicide Awareness Walk on September 10th at 7p.m. – the first virtual Walk!
Register at htpps://.tinyurl.com/RegisterSAW2020
Fundraising? Create your individual or team page at htpps://tinyurl.com/FundraiseSAW2020
Follow the Niagara Suicide Prevention Coalition's Facebook page for updates!
HALDIMAND-NORFOLK
September 10, 2020
Chalk Your Messages of Hope – the Suicide Prevention Network of Haldimand-Norfolk invites everyone to write messages of hope with chalk on sidewalks throughout Haldimand-Norfolk.
R E SOUR C E S
THE 211
211 connects people to the right information and services, strengthen Canada's health and human services, and helps Canadians become more engaged with their communities.
Visit https://211ontario.ca/ or call 2-1-1
TOGETHERALL (FORMERLY BIG WHITE WALL)
Commissioned by over 250 organisations globally, Togetherall is an online service providing access to millions with anxiety, depression and other common mental health issues.
Visit https://togetherall.com/en-ca/ to learn more
BOUNCEBACK ONTARIO
BounceBack® is a free skill-building program managed by the Canadian Mental Health Association (CMHA). It is designed to help adults and youth 15+ manage low mood, mild to moderate depression and anxiety, stress or worry. Delivered over the phone with a coach and through online videos, you will get access to tools that will support you on your path to mental wellness.
Visit https://bouncebackontario.ca/ to get started