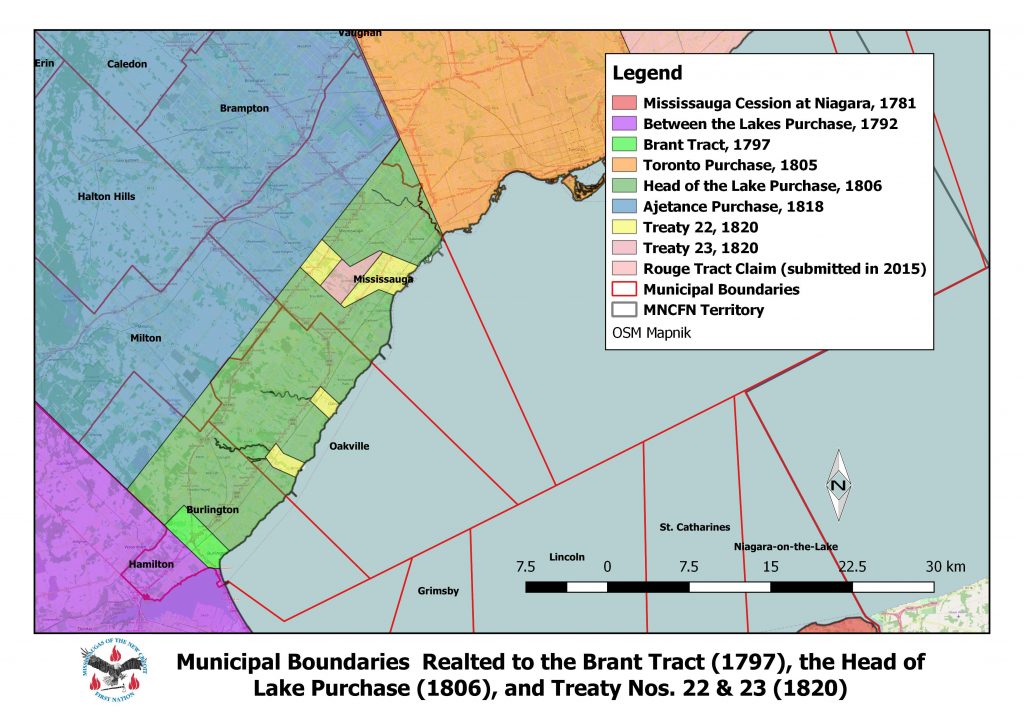 The completion of the Ajetance Purchase of 1818 left the Mississaugas of the Credit with three small reserves at 12 Mile Creek, 16 Mile Creek, and the Credit River. Noting the distress and poverty of the Mississaugas, William Claus, Deputy Superintendent of the Indian Department, met with Mississaugas of the Credit ancestors and proposed the surrender of their remaining lands.

Claus promised that the proceeds of the sale would be used to instruct the Mississaugas in the rudiments of the Christian religion and also to provide education for their children. In addition, a portion of land consisting of 200 acres located in southeasterly portion of the Credit River Reserve would be set aside as a village site for the Mississaugas. On February 8, 1820, according to the terms of Treaty 22, the Mississaugas acquiesced to the Crown and ceded their lands at 12 and 16 Mile Creeks along with northern and southern portions of the Credit River Reserve.
Treaty 23, negotiated later the same day, saw the central portion of the Credit River Reserve, along with its woods and waters, ceded to the Crown for £50.

For both Treaty 22 and 23 the Mississaugas believed that they were placing the lands into the hands of His Majesty to hold in Trust so they could live there unmolested forever. Instead the Crown took the lands and sold them all to whites between 1820 and 1847. This lead to the removal of the Mississaugas from the Credit River Mission established by Chief Peter Jones in 1827 and to the relocation in 1847 to their current reserve near Hagersville.

The conclusion of Treaty Numbers 20 and 23 limited the Mississaugas of the Credit to 200 acres of land at the Credit River. The Mississaugas, who had once effectively controlled 3.9 million acres of land at the conclusion of the Beaver Wars, found themselves with far less than one percent of the former lands. The lands ceded by the Mississaugas of the Credit have developed into one of the most heavily industrialized and densely populated areas of Ontario and Canada.