A virtual LIVE summit was held on Monday, October 5, 2020 with special guest appearances from Indigenous youth, Grandmothers, and influencers speaking about the injustices and history of violence towards Missing and Murdered Indigenous Women, and gender-diverse people.
Viewers and participants are welcome to watch the recording of the live summit below.
October 5th ~ Speakers & Performers
Marion Buller, Chief Commissioner of the MMIWG Inquiry
Charlene Bearhead, Curriculum writer for "They Will Guide Us"
MCFN EdebwedOgichidaa-Val King
"We Matter" youth ambassadors, drummers, dancers and many other special guests
MCFN Elder EdebwedOgichidaa-Val King (photo below) spoke at the summit as part of Grandmothers Voice discussion on MMIWG. Historical impact, cultural, colonial structure and policies impact, men and womens roles, mens healing, young girls and young men healing, picking the bundles up, planting seeds and answering the 231 calls to action. Education awareness discussion were also held. Red dress and red cloth ties were hung to honour and remember the women. Songs and feasting and dancing were also a part of this summit.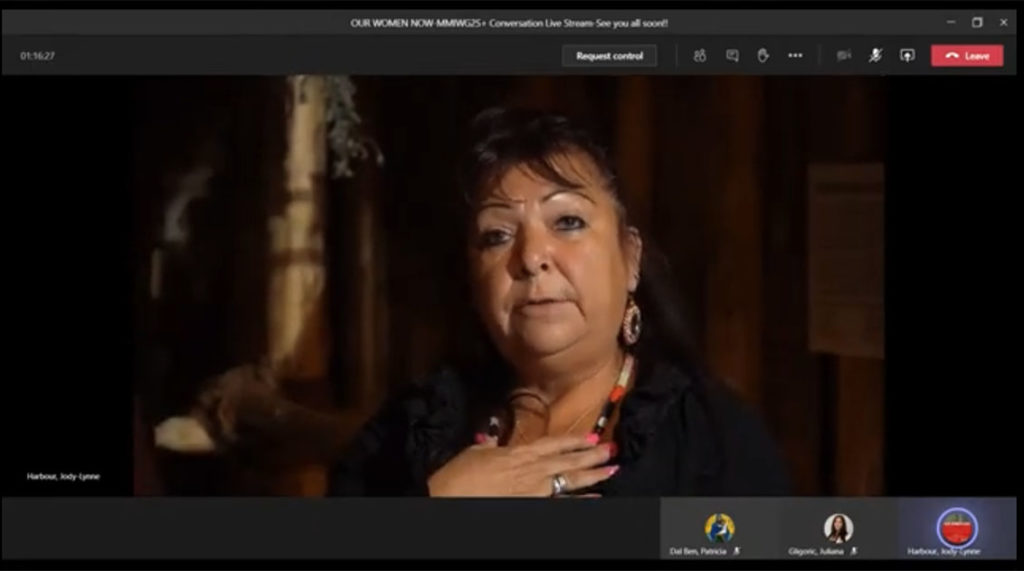 In honour of the Missing and Murdered Indigenous Women and Girls, HCDSB secondary schools will be showing their support by displaying a red dress in their school foyers as a visual depiction of the violence against Indigenous peoples across Canada.