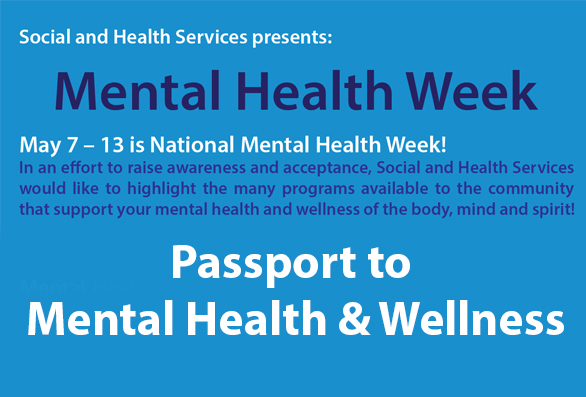 Passport to Mental Health and Wellness
05/10/2018 @ 5:00 pm

-

8:00 pm
Social and Health Services presents:
Mental Health Week
May 7 – 13 is National Mental Health Week!
In an effort to raise awareness and acceptance, Social and Health Services would like to highlight the many programs available to the community that support your mental health and wellness of the body, mind and spirit!
Stop by Social and Health Services to register and pick up your "Passport to Mental Health and Wellness."  From May 7 – 10, we will be stamping your passport when you attend existing programs.
3 stamps qualifies you entry to win 2nd or 3rd place prizes.
5 stamps qualifies you entry to win 1st prize.
We will be hosting a nature walk to learn traditional teaching for children ages 6 – 11 years.  For youth 12 – 16 years, an artisan experience night of painting with Elizabeth Doxtater (limit 20 – 25 youth)  Please sign up for either activity by May 7, 2018.
We will close up the week on Thursday, May 10th from 5:00 – 8L00 pm at the MNCFN Community Centre with a painting event.
Dinner & Refreshments!
Draws for 3 Grand Prizes!
Fun for the whole family!
For more information or to register contact Dawn Greer (Mental Health Worker) at 905-768-1181
Share This Story, Choose Your Platform!
Event Navigation