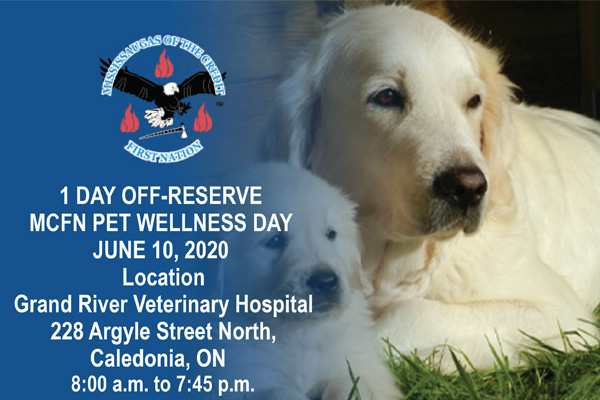 MCFN Pet Wellness Day
06/10/2020 @ 8:00 am

-

7:45 pm
Due to the Postponement of the MCFN Pet Wellness Clinics Re: Cat and Dog Day in April & May 2020
Grand River Veterinary Hospital have so generously agreed to provide the following services at their location to MCFN Pet Wellness clients;
RABIES VACCINATIONS will only be given to those animals that are overdue or never had one such as; new puppies and kittens must be at least 12 weeks of age.  Any pets that are CURRENT on the rabies vaccine do not require an appointment but will still be able to purchase PREVENTATIVE MEDICATIONS for Flea & Tick, Worms and Proheart for Dogs for an additional cost.
MCFN registered band-members will be subsidized for the cost of the rabies vaccine and will pay $10 cash per Pet at their scheduled appointment time
You have up until June 5, 2020, 4:30pm to schedule your appointment with Laura-Lee Kelly, CHR @ 1-289-556-9331 Appointments will be scheduled from 8:00am until filled.
Share This Story, Choose Your Platform!
Event Navigation