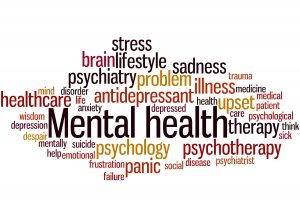 As you may be aware, mental health week is the first week of May (May 1-5). MNCFN Social and Health Services is planning a week-long passport event in support of mental wellness and overall wellbeing. As part of the event, we are profiling staff members who have struggled with maintaining balance in their lives (due to life stressors, mental health and well-being issues, etc.) and what strategies they use to achieve wellness and find balance in their day to day lives. Miigwetch to Danielle MacDonnell for sharing the following:
I am the principal at Lloyd S. King Elementary School. During my years in secondary school I was a good student, involved in sports and other clubs, and had an active social life but something just didn't feel right. Moving on to college and university, the feeling persisted.
During my first year of university I felt very overwhelmed by the responsibilities of school and life so I reached out to a great professor. He guided me and suggested that I keep a very detailed planner which helped me feel less overwhelmed. When I finished university I went on to begin my career in education.
During my first year as a teacher, I again felt overwhelmed and went to my family doctor. He diagnosed me with depression and put me on medication. I realized that I did not feel depressed and felt that I had been misdiagnosed and prescribed the wrong medication. It was only after seeking counselling that I realized that what I was experiencing was anxiety.
Over the years, I have worked to develop strategies that reduce my anxiety and allow me to live a contented and balanced life. I work hard to ensure that I take care of each part of me through being proactive and reflective of my needs. I participate in physical activities such as yoga and make sure to eat a healthy diet. I have embraced the Anishinabek culture and find great solace in ceremony and tradition. I plan time for activities with family and friends to ensure that I have a healthy social life. I read and take courses to keep up in my profession and to keep my mind stimulated. By being mindful of my needs and making sure that I keep balance in my life, I am able to manage my anxiety and live my life fully.
Click here for more information on Mental Health and MNCFN Social and Health Services' Mental Health Unit