Greetings, Mississaugas of the Credit,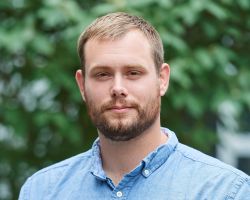 My name is James Medway and I could not be more excited to be the new Principal at Lloyd S. King elementary school and become part of your amazing school community! I have heard nothing but great things about the staff, students, and the community that the school is situated within. I sincerely am looking forward to getting to know you all but first and foremost I would like you to get to know a bit more about me through sharing with you my education and work experience, philosophy of education, and my leadership style.
I completed my Bachelor of Arts, Bachelor of Education, and Master of Education in Administration and Leadership at Brock University. I also recently completed my Doctor of Education in Educational Leadership at Western University. I decided to become an educator because I love working with students! I began my teaching career within an elementary public school in Saskatchewan where I was both a Grade 5/6 teacher and Acting Principal. After a few years, I transitioned back to Ontario to work as a Training Specialist at Desire2learn (D2L). After another few years, I then transitioned back to the classroom for several years to my previous role where I worked as an Acting Principal, Development Officer, LMS Consultant and Teacher at SNP STEAM Academy.
My personal philosophy of education is a work in progress. This is not intended to come across as incomplete but is rather to express as a lifelong learner my personal educational philosophy is not static but is instead continuously growing and evolving. I firmly believe we are all learners and can benefit from each person that makes up our school community. We all matter! To embrace a culture of learning, I empower everyone to adopt on a regular basis a growth-mindset. To learn most effectively, I strongly encourage us all to delve into each of our students' unique educational backpacks to get to know their personalities and how their experiences have shaped who they are today. It is my overarching aim to foster a school culture that is centered on creating inclusive and engaging learning environments rooted in Indigenous knowledge and tailored to each of our individual students.
My leadership style centers on the servant leadership approach. This leadership approach can be summarized as serving others so they can in turn work together to best serve the students. My aim is to serve  the staff by respecting their professional judgement and providing ongoing support to work toward their professional development goals. I plan to serve parents/guardians by looking for as many opportunities as possible to engage the community to become involved in their child's educational experiences. Lastly, I aim to serve students by motivating them to continuously put their best work forward on a regular basis. Overall, I firmly believe it takes a village to effectively educate a child. Together we can all do our part to collectively create meaningful and memorable learning experiences for our students.
As much as I have a lot of exciting ideas for the school, I look forward to hearing all the great ideas you have already successfully implemented. After taking some time to get appropriately acclimated to the school, I look forward to collaborating with you all to not only safeguard the amazing progress you have already made but also to continue to raise the bar of educational excellence each year!
Looking forward to getting to know you all throughout the school year!
James Medway